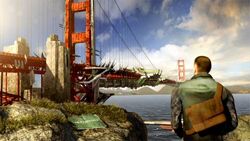 The release of the
Defiance video game
is around the corner! Trion Worlds, the developers, are launching an massive open beta and we have your chance to get in on the action right here. Simply fill out the form below and you will be entered in a random lottery to receive a code! We have more than six hundred codes to give away, so don't hesitate to spread the word and tell your friends. You have the world of Defiance to explore. You will need all the help you can get!
Ad blocker interference detected!
Wikia is a free-to-use site that makes money from advertising. We have a modified experience for viewers using ad blockers

Wikia is not accessible if you've made further modifications. Remove the custom ad blocker rule(s) and the page will load as expected.