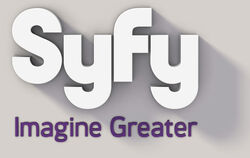 Syfy (originally The Sci Fi Channel, sometimes rendered SCI FI Channel) is a cable television channel from the US, launched in September 24, 1992, and specializes in science fiction, fantasy, horror, and paranormal programming. It is part of the entertainment conglomerate NBC Universal.
Syfy airs several series including Battlestar Galactica, Farscape, Eureka and is the US home to the revived Doctor Who series.
Recently, Australia has launched their own version of the SyFy channel, entitled Sci Fi Australia.
Defiance series
Edit
Syfy is creating the Defiance television series in a collaboration with Trion, who are making the Defiance MMO video game.
Syfy has signed off on the completion of 2 Seasons of Defiance. Season 1 has completely aired, and Season 2 will be released June 2014. 
External links
Edit
Ad blocker interference detected!
Wikia is a free-to-use site that makes money from advertising. We have a modified experience for viewers using ad blockers

Wikia is not accessible if you've made further modifications. Remove the custom ad blocker rule(s) and the page will load as expected.