New Chicago is cold and barren, except for the occasional Votan that desire a desolate life of hardship and tranquility.
Most of the population live in underground to protect from the eternal winter caused by terraformation.
In Season 2, Episode 1, Nolan's search led him to the whereabouts of a cult follower, in a search for his missing daughter, Irisa.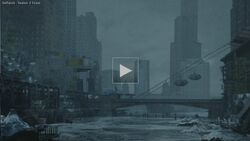 References
Edit
Ad blocker interference detected!
Wikia is a free-to-use site that makes money from advertising. We have a modified experience for viewers using ad blockers

Wikia is not accessible if you've made further modifications. Remove the custom ad blocker rule(s) and the page will load as expected.